Cryptocurrency news: recession has begun, Ethereum halving, Telegram sale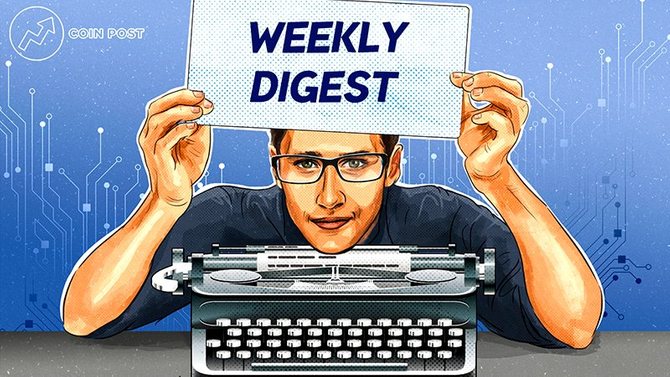 Last week at the price of bitcoin closed below $ 9,000, which is a key level for the start of a new uptrend. Whether BTC will be able to break through this resistance or we are waiting for a fall to $ 7,000, according to the bearish scenario.
In traditional markets, positive news overlaps with disgusting reports of the onset of the recession in the US and Europe. We are on the verge of a financial crisis, but the Fed continues to struggle to save markets.
In the crypto news section today, we analyze the canceled launch of the Gram cryptocurrency again, can it be enough to add bitcoin to Telegram and that's it? As well as a reduction in Ethereum emissions by 47 times, according to the plans of Vitalik Buterin.
Bitcoin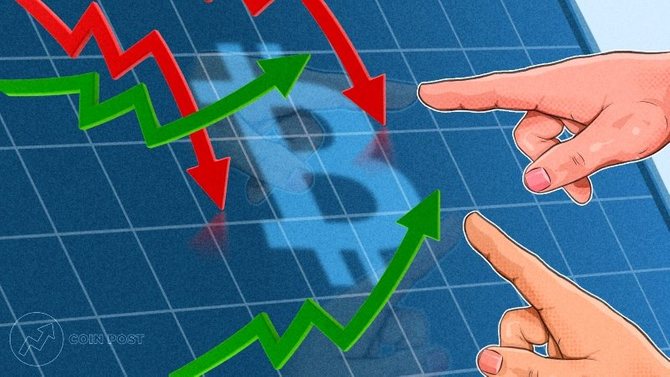 Do not buy bitcoin, you will be told in the branches of leading world banks JPMorgan and Goldman Sachs :
I have a client who was ready to buy #bitcoin & after talking to his Advisors at JPM & GS told me he's not interested anymore. I asked what they said & instead of answering, he asked me to explain in one sentence what the benefits are to buying BTC now in terms of proven results.

— Adam Pokornicky ∞/21M (@callmethebear) April 30, 2020
According to media reports, these financial giants discourage their customers from investing in cryptocurrencies, and this despite the fact that mathematics clearly showed higher return on investment portfolios, which have 1% to 10% of bitcoin.
And this is not just speculation, because the number of wallets with a balance of more than 10,000 BTC, and this is about $ 87 million at the current exchange rate, went up again: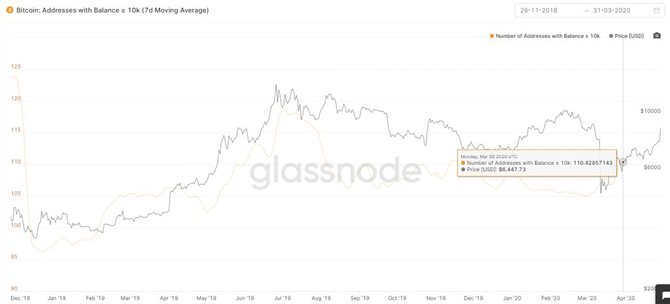 Who knows if JPMorgan head James Dimon is hiding behind one of them, even though he is an opponent of cryptocurrencies .
But the price of bitcoin has not yet been upset, but not particularly pleased. Last week closed just above the 50-week moving average, and the new one started with a red candle: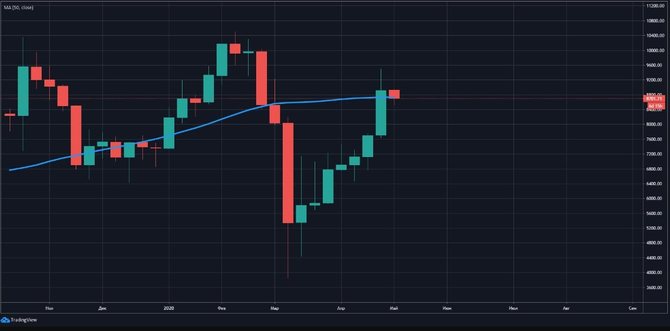 Total we have a week to break through resistance and usher in a new uptrend. However, there is an opinion that there has already been a price increase due to halving , and then on the contrary we will see a pullback. If so, then this will be the first bell in the beginning of the bearish scenario, when the rate may again fall to $ 6,000.
We don't want to do this ourselves, but we are obliged to warn you. And they should also remind you that in the long run, bitcoin is doing great, the main thing is to survive the current financial crisis.
S&P 500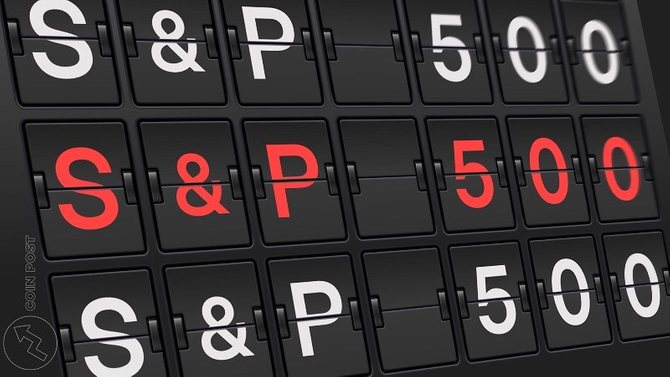 The situation in traditional markets remains unclear because it is still unclear which factors outweigh. On the one hand, there are already more than 30 million unemployed in the USA, and the country's GDP in the first quarter fell by almost 5%, which is the worst result since the previous financial crisis.
Disappointing news also came from Europe, where the overall economic contraction due to measures to combat coronavirus was estimated at almost 4%. That is, we are witnessing the beginning of a recession, but there is also positive news.
The first hope for the US Federal Reserve and their printing press. They extended zero rates and unlimited quantitative easing.
] Another hope of optimists and supporters of a quick economic recovery is the news about the possible early development of a vaccine against coronavirus.
In just two weeks, human trials could begin, and if they were successful, then mass production could be launched in September. This means that there is a chance to solve the pandemic problem this year and begin to restore the global economy. True, it does not give any guarantees that at the current pace this economy will last until the fall.
Here I want to make a small digression and say a few words about hype about vaccines and the scary plan from Bill Gates to chip all of humanity. People are afraid that they will be constantly monitored, but for some reason these same people install new applications on their phone every day and give them access to the camera, correspondence, contacts, location and other functions of the device.
And it doesn't bother anyone that this is how you can follow anyone and know much more than your current location. And absolutely no need to come up with chips that will be administered under the guise of a vaccine. Why such a complicated plan when people are so far under the hood of states and corporations, because they themselves and of their own free will agree to transmit all the information.
When TON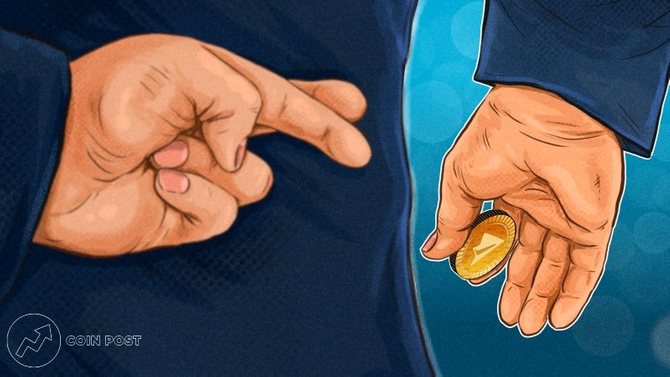 was launched This Thursday the second deadline for launching passed Gram cryptocurrencies from Pavel Durov, but we did not see the long-awaited event, nor the cancellation of the project and the return of money. What is going on?
The rumors surrounding this event were very different. For example, third-party developers promised to launch the blockchain platform without Telegram. We think they understand very well that few people need a new cryptocurrency without a messenger, but this is better than nothing. Especially when you consider that they spent time and money developing an operating system for simplified access and working with the TON blockchain , but did not receive this blockchain itself.
Also actively discussed the launch on April 28 without American investors, contrary to a court decision. Allegedly, such information was reported by representatives of the messenger in personal correspondence with investors. This plan was good and many supported it, but Durov quite expectedly decided not to roll the barrel on the US authorities, and therefore the release of the Gram cryptocurrency again was postponed , and the third deadline of the project was April 30, 2021.
Pavel made an offer to investors, which they cannot refuse: take 72% of the invested funds now, that is, get a minus, or wait another year and then if not cryptocurrency, then at least a return of 110% money .
And since the Telegram messenger itself is not monetized, that is, it does not earn money and exists at the expense of Pavel Durov's personal finances, it is logical to assume that the promised surcharge will be made by selling a share in the messenger, and if this happens , new owners quickly fasten ads and other paid chips.
Summing up, we can say that we will have to wait another whole year, and it will obviously not be easy, because so far there is no clear plan to withdraw Gram tokens from the injunction. And therefore it is not surprising that a wave of criticism fell on Telegram.
Even Mike Novograts changed his shoes, the same one who had previously regretted not participating in the Telegram ICO. And now he is drowning because we don't even need another blockchain with our own cryptocurrency, and it's much better to simply integrate bitcoin directly into the messenger:
Telegram should enable $btc and stable coins on their platform. We don't need another blockchain. We don't need another crypto. They have an awesome community of messaging users. Turn them into consumers now. https://t.co/isZRXG9FPN

— Mike Novogratz (@novogratz) April 30, 2020
Halving ETH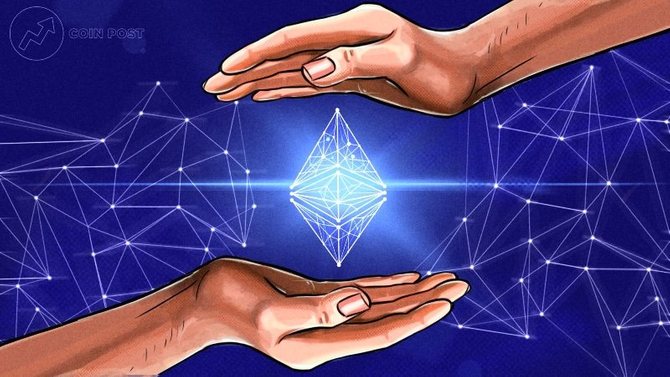 Ethereum last week, but rose above $ 200 again far more important are his fundamental successes. Vitalik Buterin said that the air will have its own halving, almost like bitcoin.
First, let's get some statistics: over the past three weeks, the Ethereum blockchain has seen a boom in smart contracts . According to CoinMetrics, more than a million smart contracts have been launched and there are now more than 14 million in total: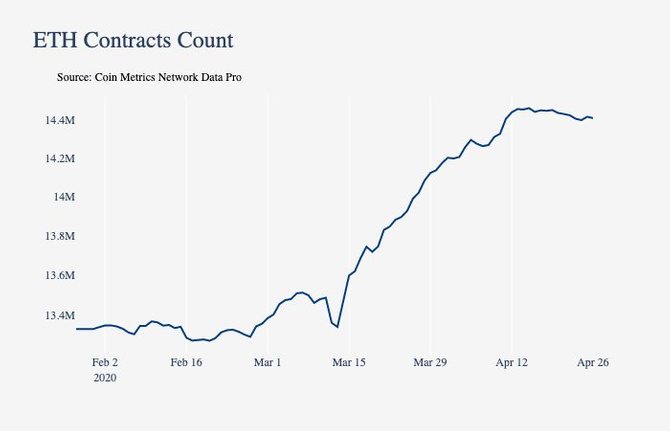 And Glassnode estimated that 33% of ether coins on external addresses, that is, not involved in smart contracts, have been idle for more than two years. So, the faith in Buterin and the company didn't go anywhere, and investors are waiting for things to be done .:
And we add that since the beginning of 2020, the Grayscale Investments cryptocurrency fund raised $ 110 million in its Ethereum Trust:
[ 19459001]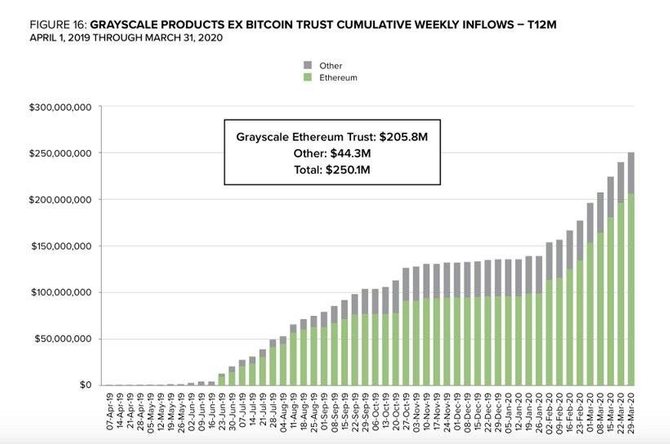 Given this amount, one of the Reddit users concluded that Grayscale Investments bought up almost half of the ether mined from the beginning this year.
And halving of the ether, about which they promised to say. Unlike Bitcoin, the emission of ether is unlimited, that is, it can be mined ad infinitum. Taking into account the current block reward and network complexity, about 4,700,000 coins are mined annually. But after switching to the Proof-of-Stake algorithm, this amount will be reduced more than two times to 2 million coins.
This will be achieved due to the fact that the reward for the block will not only be reduced, but a second part will also appear, which will simply be burned.
The developer's plan is clear: in the long run, the scarcier an asset, the higher its price. But for its implementation, you first need to finish the transition to Ethereum 2.0. Recall that this process should begin this summer, test networks have already been launched, but so far the developers are eyeing and double-checking everything to prevent errors.