Global social experiment: the world will never be the same after the coronacrisis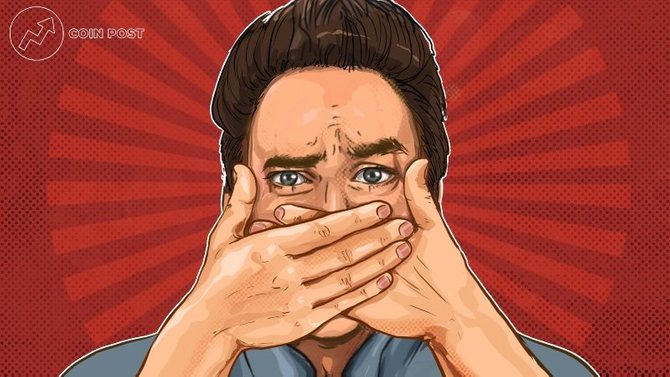 The crisis of 2020 is compared with the Great Depression of 1929-1939, but this is true only in part . Now there are events that humanity has never known in its history, such as international quarantine, negative oil prices and the artificially frozen economy.
It may seem that all these actions are part of a global experiment, the purpose of which is to change the social and economic system. What if everything that happens is a way to deprive people of their rights and freedoms, as well as completely destroy the free market. Farewell to capitalism?
We were not ready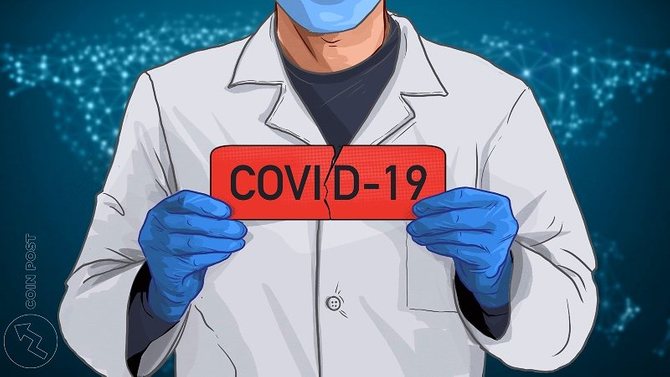 We were not ready, but rather, we did not know what get ready. Something like the peak of the epidemic in Europe and the United States explain the authorities. They blame China for the fact that the statistics of those infected were deliberately underestimated at times, which is why other countries did not attach due importance to the problem that was approaching them.
And we have a question: where did the all-seeing American intelligence look, which was the first time to report incredible information through official US channels so many times and was soon confirmed? Analyzing such events, it seems that American intelligence knows everything, then did their system fail in China?
It is logical to assume that if China really deceived the whole world, then it was impossible to conceal it from special services, given how many people in the Middle Kingdom were quarantined and served all these events.
And then they decided either money, because we already got an extremely non-standard financial crisis, or we are talking about something more, for example, an experiment on our health and rights.
Let's start with health, but it seems to us that introducing completely different measures to contain a pandemic in different countries is, to put it mildly, illogical. Suppose that you do not believe in statistics from China, but no one has such claims against South Korea, and they have coped with the problem, possibly with the best result among all countries of the world.
But instead, each state makes its own decisions, introducing quarantine at different times. As if on purpose, in order to manage to pass the baton to his neighbors. And completely different restrictions are accepted or the existence of a problem is generally denied. Hello to the Belarusian Old Man. And all this suggests that we have agreed somewhere, divided the land into sectors and painted that here we will apply such measures, but here we will see where it works best.
And if our fears are true, then the next stage of the experiment will take place in the Czech Republic. Since April 24, the country has opened its borders for entry and exit and allows groups of up to 10 people to gather. And from April 27, it resumes the work of universities, as well as shops and gyms are opening.
What is the essence of the experiment? It is to assess the threat of a second wave of infection after quarantine has been lifted, which will become extremely useful data for decision-making in other countries. And if for the majority this will be only statistics, then someone will have to pay the highest price for these figures.
We very much hope that the current problem will disappear like a bad dream, but for now we want to ask everyone to exercise maximum caution and care about their health and the health of your loved ones.
Distance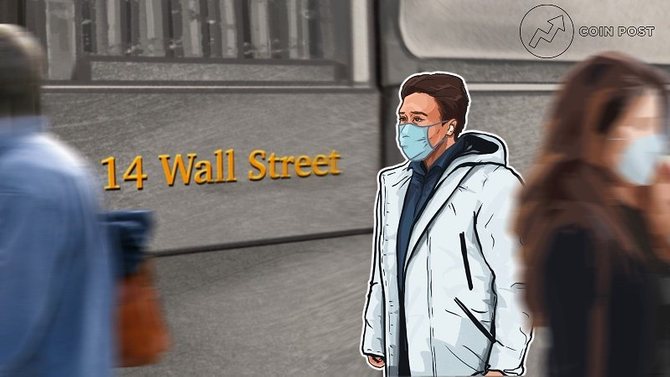 So that you do not have the impression that we have a problem a statement by UN Secretary General Antonio Guterres, who believes that states are using the pandemic to introduce repressive measures against their own populations.
And even from the point of view of the conspiracy the United Nations is another control system, but if you look at different countries, they give out digital passes in Russia, in China drones patrolled the streets, in India people stupidly beaten with sticks, but in the USA Donald Trump simply asked to wrap his face with a scarf, and then at will.
We do not think that in the USA there is no infrastructure for digital passes, a lack of drones or few cops with sticks. Just power allows itself to do only what its people are ready to endure. And now every elected or appointed ruler has a unique opportunity to check, under the pretext of fighting the virus, whether it is possible to turn the country into one big City-17 from Half-Life, or still have to leave these people some rights and freedoms.
In parallel with this, a paradigm shift in people's consciousness takes place. If for the past 10 years there has been a trend towards globalization, and even if everyone had a passport with the citizenship indicated there, but you could easily travel between cities and countries, if you had the finances, now they urge you from each iron to distance yourself everywhere and from everything.
Indeed, on the one hand, protective masks and the prohibition of handshakes seem logical measures to protect against illness, but those who continue to go to work now could not fail to notice that the relationship in the team with these new rules is not the same. You subconsciously try to keep your distance, limit non-working communication, strive to be home faster and even if there are no filters on the ventilation, but the four walls give the illusion of security.
And how many families were now divided? And the next time you go to another city or country for work or for leisure, you will think three times whether you need it. What if tomorrow again circumstances arise that will not allow return?
Having voiced all this, we want to side with analysts who predict that after quarantine is over we will not see the restoration of passenger traffic at airports and cafes and restaurants filled to capacity on Friday evening. And not only because during this time, many will be corny without a livelihood due to loss of work or business, but because people are afraid of themselves, and on a subconscious level, the new attitude sounds like this: sit more at home and minimize communication with other people .
You give socialism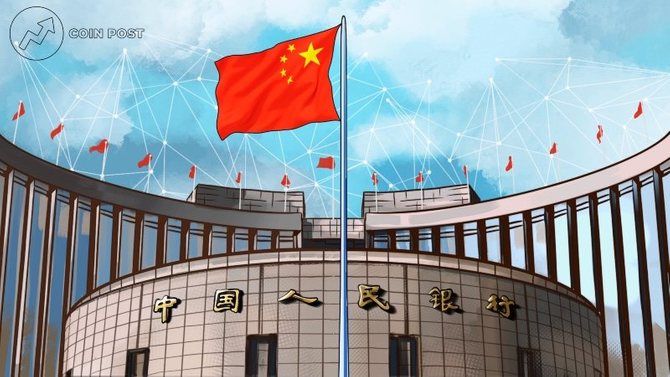 Recently, due to circumstances, we talk a lot about the financial crisis, and We have repeatedly noted that now events are developing in an extremely rapid manner. The best proof of this is the S&P 500 chart: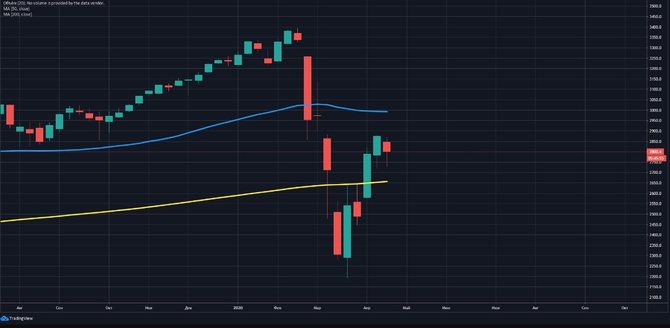 Now it should be pulled to the blue line where it passes A 50-week moving average, and from there the price will go in search of a new bottom. That was exactly what happened during the previous two financial crises, but we will return to this topic in our other articles. In the meantime, look at time again: the initial phase of the crisis has never passed in just three months.
Also, we have never before received negative oil prices. And though they already managed to tell on TV that these were just speculations in the futures market, but these speculations are already not a year old, and minus prices for "black gold" have appeared just now.
And the reason lies almost in the eyeballs of the full storage facilities and the absence of buyers in the markets. Every day, tens of millions of barrels of oil are produced, but there is nowhere to store them, no one to sell, and pouring oil into a ditch or pumping it back underground is impossible. Even rumors are circulating about plans for the urgent construction of open oil storage tanks. It's like a reservoir, filled with black liquid until failure, and it's better not to fry kebabs on its shore.
And we have never seen such a large-scale and coordinated flood of markets with liquidity from the Central Banks. It really looks like a financial experiment that is taking place right now, and its goal is whether the printing press can solve all the problems of the global economy. Including the oil industry, because it is obvious that it is time to turn off oil production, but in order to avoid the loss of the whole industry and the discontent of its employees, they will be transferred to allowances for which they will print money.
And the same can be done in other industries, shifting the focus of power from those who own assets to those who manage the printing press. And then return to socialism, when market relations are canceled, and they will tell you what work needs to be done and how much you should receive for it. And so that no one picks, the property will need to be returned to the hands of the state, because there is nothing easier than buying bankrupt companies with an endless stream of money that you create yourself.
In our understanding, than to go over to such a system, it would be better to let the financial crisis run wild enough to restore the economy from scratch. But the scenario with the return of socialism is quite possible, given that they wanted to change the current Jamaican monetary system during the crisis of 2008 at a meeting of the G20 countries.
Whoever heard, the Jamaican currency system was adopted in 1978 as an improved version of the Bretton Woods system. Thus, the gold standard was finally destroyed and the list of reserve currencies was expanded - previously only the US dollar had such a status.
Therefore, we dare to assume that the plan to solve the problem of tens of trillions of government debt has been hatched by the authorities for the past 10 years, and now is the time to start implementing it. While we will all stay at home and worry so as not to lose our job.
COVID-19: Black swan or scapegoat
Why is the 2020 crisis unlike all the previous ones?
How to survive the crisis of 2020 - a detailed guide to survival