How to buy and sell bitcoin without an identity confirmation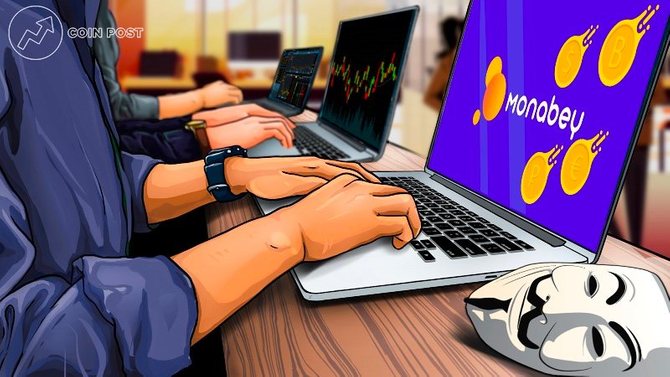 Nowadays, you can use various services to buy cryptocurrency - exchanges, exchangers, bots in instant messengers, p2p platforms etc. True, if earlier in any of these categories one could easily find an option with quick registration without having to go through an identity verification, now there are only a few of them.
Some users follow this new trend and humbly disclose their data to exchanges. Others continue to resist, claiming that going through the KYC procedure can have many unpleasant consequences.
And, despite the fact that this industry is still not regulated by law, income taxes from such trade will still have to be paid.
What else traders risk when passing verification, as well as where it is still possible to buy bitcoin anonymously, we will take a closer look at this article.
Verification on exchanges and exchangers vs. anonymity of cryptocurrencies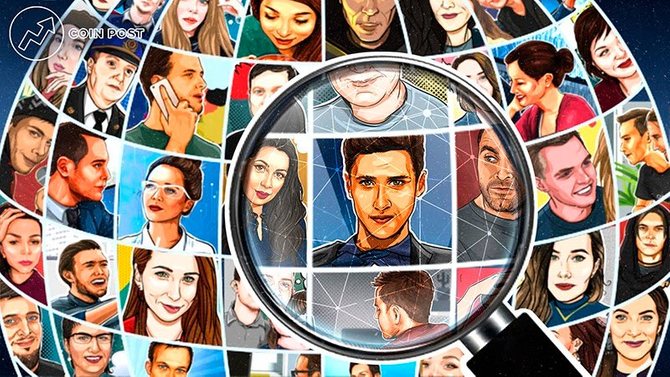 Every day, buying and selling cryptocurrencies anonymously becomes more difficult90 because [19] and exchangers without exception introduce the KYC verification procedure, fulfilling the conditions of the AML international policy (anti-money laundering).
Yes, this is not bad when it comes to combating scammers and putting cryptocurrencies in the legal field. But at the same time, mandatory verification of users jeopardizes the safety of their personal data. Today you will not surprise anyone with the news about the thefts and leaks of personal information of clients of trading floors, as this happens all the time.
In addition, the introduction of user verification by exchanges is contrary to one of the fundamental postulates of the original idea of ​​cryptocurrencies. At one time Satoshi Nakamoto tried to create a means of payment with which people would be able to make transactions without revealing their identity. But in the end, due to KYC on exchanges and exchanges, cryptocurrencies help control their adherents to the old financial system instead of fighting it.
But the result is the same everywhere - the user cannot start trading immediately after registration. But there are situations when you need to buy cryptocurrency urgently, for example, at moments of extremely profitable, but short-term drawdown.
[ 19459008] For many years, those wishing to anonymously buy or sell bitcoin could do this through the world-famous site Localbitcoins . However, since the fall of 2019, even this p2p platform surrendered under the pressure of the Finnish regulators (country of registration) and introduced mandatory verification of the identity of users.
Today, the main traffic of this exchange falls on Venezuela, India, Colombia, Argentina, Russia and other countries in which cryptocurrencies have become a life buoy against the backdrop of economic problems and the devaluation of national currencies.
Each month, Localbitcoins continues to be visited by about 4 million people from these countries, for whom access to financial instruments is more important than anonymity. However, customers from most other countries stopped using Localbitcoins services and started looking for alternatives.
Secure cryptocurrency exchange without verification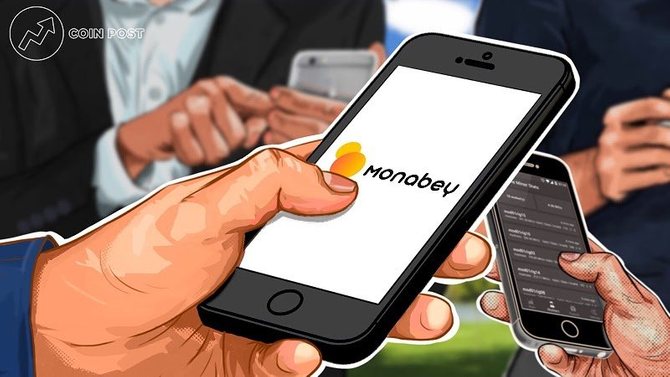 For those who are used to selling and buying cryptocurrency without going through the KYC procedure, today there is a great option in the face of the p2p platform Monabey , launched in 2019.
All you need to specify to open an account is an email address and password.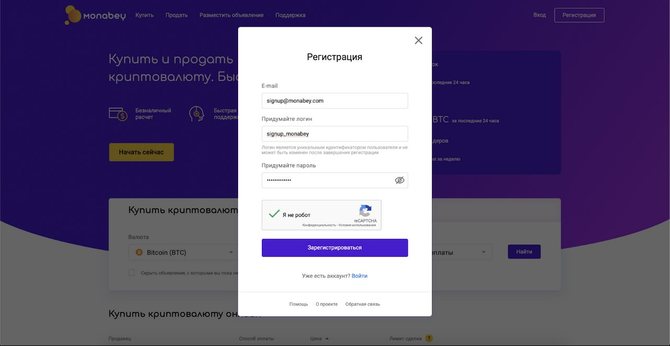 After registration, a user can activate two-factor authentication to further protect his account :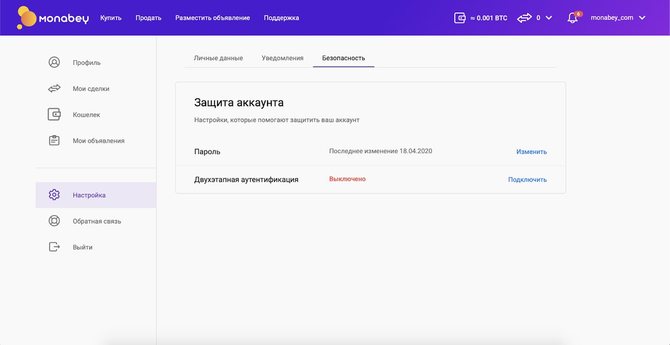 You can also configure notifications. Interestingly, in addition to the standard settings, such as email or SMS, Monabey has a unique function - notifications via Telegram: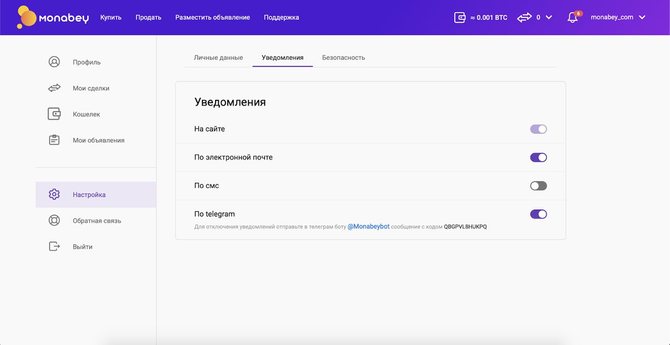 Site moderators will review the claim within 3 business days and, if you are right, will return the funds blocked by deposit to your account .
Creating his own ad on Monabey
If a Monabey client cannot find a suitable offer among those published on the site or just wants to conduct a deal on his terms, he can create his own ad and wait for other users to respond to it.
To do this, go to the section of the site "Post an ad" and select the direction of the transaction (buy or sell).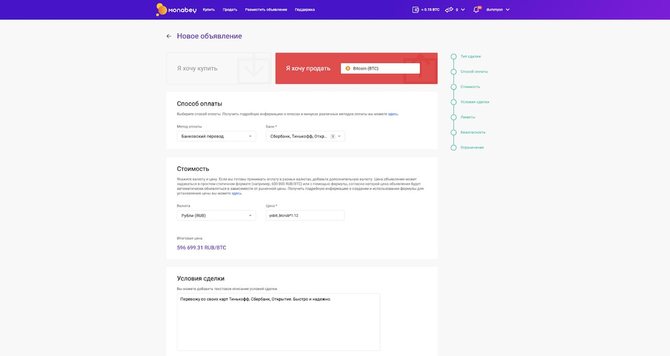 Next, specify:
Payment method, which suits you;
The course at which they are ready to buy or sell cryptocurrency;
Textual description of the terms of the transaction;
Ad limits (maximum and minimum amount);
Time for which the buyer must spend and confirm the payment;
Limitations on the status of verification, reputation, the minimum number and volume of transactions performed (to exclude unreliable users).
After determining all the parameters, all that remains is to click on the "Place an ad" button and wait for the responses to your offer.
How to make money on the exchange of BTC for rubles?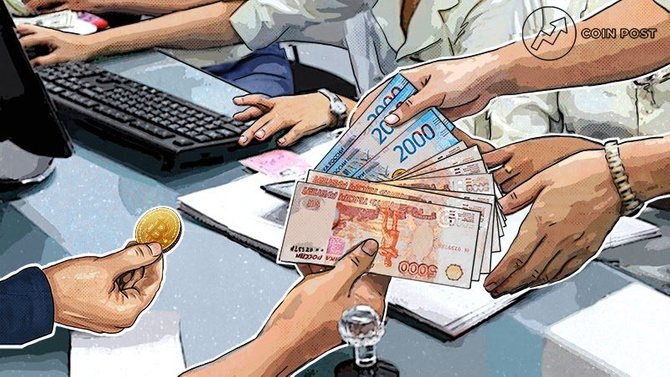 To earn money through the Monabey p2p platform, you must adhere to the well-known fundamental principle "buy cheaper, sell more expensive". However, not everyone can afford such a scheme of earnings, since, as in the usual trading , you need to be able to predict the movement of the cryptocurrency rate.
In the case of Monabey, users have an easier way to earn income from exchanging BTC for rubles and other currencies - using formulas for dynamic rate calculation. To do this, when creating an ad, you need to specify special conditions in the "Price" column for calculating the cost of bitcoin using the supported commands.
For example, to use the formula:
bitfinex_btcusd * 1.05
so that the BTC sale ad always has a rate 5% higher than on Bitfinex ] In this case, the seller will receive 5% more money than if he were selling bitcoin at an average rate. If you immediately buy cryptocurrency again at the usual price and conduct a similar transaction, it will have another 5% more fiat. Thus, using transactions through Monabey, you can establish a stable income-generating scheme.
To create such formulas, standard arithmetic operations can be used - multiplication, division, subtraction, addition. You can also use the following commands:
min (A, B) - the minimum of two prices;
max (A, B) - the maximum of two values;
avg (A, B) - the average value of the course.
In this case, instead of A and B, the names of two exchanges and the designations of trading pairs are registered. For example:
avg (bittrex_btcusd * bitmex_btcusd) - the average value of the Bitcoin to dollar exchange rate from the sites Bittrex and Bitmex .
What is the difference between p2p platforms and conventional exchangers?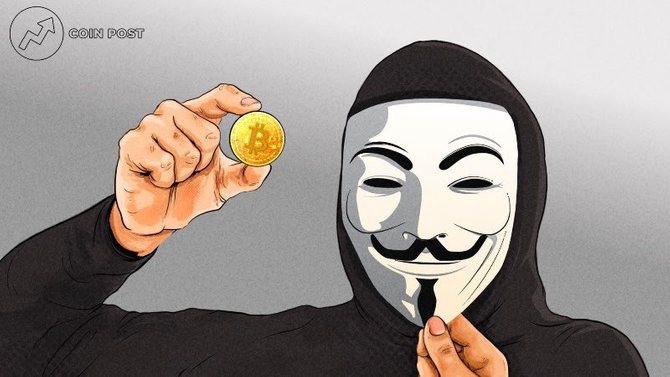 On both types of sites there is such a thing as spread , that is, the gap between cryptocurrency sale and purchase rate. But at the same moment there is a significant difference.
Exchangers set the exchange rate on their own, more often than not significantly overpriced for purchase and underestimated for sale (compared to market values). As a result, customers of such sites simply have no choice - they have to buy and sell at the prices that are available, or wait for more favorable ones, which is often not very convenient.
On P2P exchanges, the situation is completely different. Cryptocurrency sale and purchase rates are set exclusively by the users themselves. At the same time, prices will be approximately within the average market, since ads with a strong deviation are not interesting to anyone. There is a natural price discovery - price formation due to the competition of merchants trying to attract a buyer.
Another important difference between p2p platforms and exchangers is who acts as a seller and a buyer.